What happens when you combine the best of Jeep-And-Mopar?  JAM!  You get JAM Werks by
Chrysler Dodge Jeep Ram of Seminole County
 in Sanford, FL. Born from a desire to supply Jeep enthusiasts with premier custom modifications, Fields Chrysler Jeep Dodge RAM in Northfield, IL launched the JAM Werks division and it was such a success, we launched it down here at Chrysler Dodge Jeep Ram of Sanford, Florida. 
Robbie Crane (General Manager) and Josh Roland (Parts Manager) head up the JAM Werks Florida team here at our
Orlando auto dealer
and have donated many hours of expertise for a spectacular inaugural build. Other builds are already under way and promise to be just as exciting, high quality, and unique. Look out for greater participation in local events where like-minded enthusiasts can be found.    
Get yourself a Lift.  Here's why.
First?
we love what we do, and we drive what we build.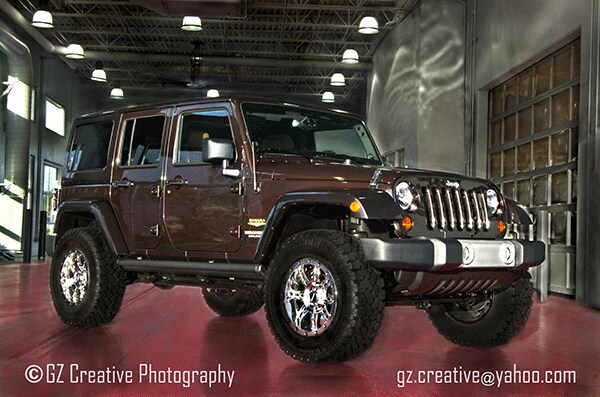 This Wrangler Sahara belongs to Smitty.  He's one of the guys on our team.
You already know that a lifted Jeep looks downright impressive, knocked-out, jacked? whatever - that's a no-brainer.  But when you leave our shop, you'll know it was built right, and that the price was right.  With as many lift projects as we do, it's easy to get an awesome lift at an outstanding value. The work is guaranteed because we're experts.  And because we're experts the job gets done right.  Our customers may not say it out loud, but when they drive away they're confident that everything is on spec and no calibration slipped between the cracks, that their warranty hasn't been voided, and that underneath that sharp look is solid workmanship.  And, there's a lot to be said for not having to go to three different places for tires, wheels and the lift you want at a decent price. Easy is good, but that's just a small piece in the Jeep lift equation.  We know lifts, and one lift definitely does not fit all.  Whether it's a hardcore perfectly articulated off-road lift or a fully-styled knocked-out street lift, Jeep owners want the lift that fits them.  Period.  That's why they come to us.  Because we've been there, done that? and then some. 
One more thing? we work quickly. We can have you on the road pronto, in a fierce, fully- modified Jeep. Contact us here at 
Chrysler Dodge Jeep Ram of Seminole County
 serving Sanford, FL and we'll make your lift project our priority.
Contact us for info on custom builds for Chrysler, Jeep, Dodge and RAM or just use the field to the right and one of our representatives will contact you as soon as possible.